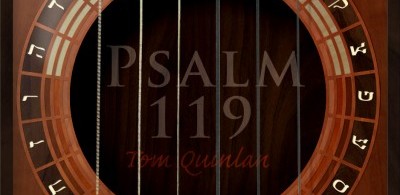 Monday, November 12. 2007 – Tom Quinlan
Psalm 119, the subject of my consideration and meditation for several months now, is set apart from its Psalm peers in a number of ways.
To begin with, 119 is not only the longest Psalm but also the longest chapter in the Bible. It is divided into 22 sections of 8 verses each. Every one of the 8 verses in each section begins with the letter of the Hebrew alphabet that corresponds to that letter's position in the alphabet. For example, every verse in the first section begins with the first letter of the Hebrew alphabet called Aleph.
Each one of the 176 verses in Psalm 119 makes reference to either God's Law or a synonym of it (His Word, His promise, His decrees, commands, precepts, testimonies (statutes:NIV), etc.
My interest in Psalm 119 is bound up in the person Jesus, the Messiah, who said:
"Do not think that I have come to abolish the Law or the Prophets; I have not come to abolish them but to fulfill them." Matthew 5:17
John began his gospel account by saying this of Jesus:
"In the beginning was the Word, and the Word was with God, and the Word was God."
In 1st Corinthians 5, Paul comments:
"Christ our Passover is sacrificed for us: Therefore let us keep the feast, not with old leaven, neither with the leaven of malice and wickedness; but with the unleavened bread of sincerity and truth."
The Law describes and reveals the character and attributes of God. It is about Him, inspired by Him and, to be interpreted correctly, must be interpreted by Him through the presence of His very own Holy Spirit. Revelation 19:10 says this:
"For the testimony of Jesus is the spirit of prophecy."
To quote from another blog I found: "As you read this Psalm (119) don't just read into it the OT law. That is not, primarily what the author has in mind. He has in mind the higher Law of God that the OT law reflects. Christ himself is that Law. In Him the testimonies, the precepts, the ordinances of the LORD come alive. When you read this let your heart fly toward the Law of Christ Jesus our savior." [emphasis mine]
Jesus is my portion (v. 57). He is the Lamp unto my feet (v.105). He is the unfailing love of God that comes to me (v. 41). With Him I can say, "Oh! How I love Your Law! (v. 97). Without Him I am left to face my legal punishment alone.
With Him, I am able to say (with Paul):
"The Law of the Spirit of Life in Christ Jesus has set me free from the law of sin and death." Romans 8:2